About Al Shafar
News & Events
Home Chairman's Message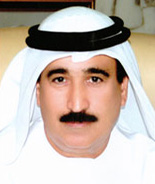 I would like to take this opportunity to thank our customers for the confidence that they have displayed in placing trust in AL SHAFAR GROUP.
For the present, I would like to say that AL SHAFAR GROUP is enjoying the fortunate position of being a major business leader in the boom of the current economy in the UAE and has very strong and healthy financial results.
In future, we will continue to build on our past reputation of being a sound, efficient and experienced business group that can be entrusted to contribute significantly to the anticipated growth of the UAE.
I would like to close by thanking our customers, staff and Management for their contribution to our business which has been an invaluable asset in our quest of success.
---
AHMED ABDULLAH AL SHAFAR
Chairman