Ongoing Projects
Future Projects
News & Events
Home HOTEL TOWER
HOTEL TOWER 1 - DUBAI MARINA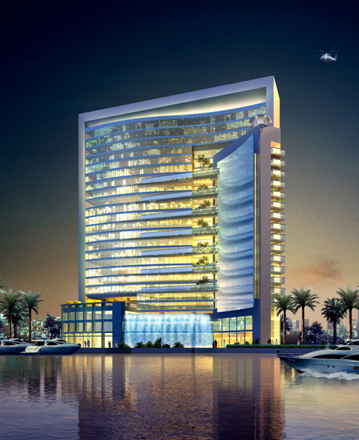 Dubai Marina is a district in the heart of what has recently become known as 'new Dubai', in Dubai, United Arab Emirates. It is located on Interchange 5 between Jebel Ali Port and the area which hosts Dubai Internet City, Dubai Media City and the American University in Dubai. The first phase of this project has been completed. The marina is entirely man-made and has been developed by the real estate development firm Emaar Properties of the United Arab Emirates. The marina will contain over 200 high-rise buildings and some super tall skyscrapers, Dubai Marina Towers, The Torch Dubai Marina, Infinity Tower, The Princess Tower, Number One Dubai Marina, Marina Terrace, Le Rêve (Dubai) and Horizon Tower to name a few, and comprise of an area of 4.9 million square meters (50 million square feet), which includes the 40 residential and hotel towers of the Jumeirah Beach Residence. Upon completion, it is claimed to be the world's largest man-made marina. The current largest man-made marina in the world is Marina del Rey in California, USA.
The vision of Dubai Marina is to create an awe-inspiring city-within-a city that delights residents with its cosmopolitan, free-spirited atmosphere and unique, invigorating lifestyle. It will be an urban centre on the water, comparable to the most exclusive waterfront developments in the world's leading cities. Ideally positioned along Dubai's new growth corridor, Dubai Marina will be the place where people meet, laugh, live and enjoy life to the full. Always alive, with the glittering Marina at its heart, Dubai Marina will be unlike any other place, in Dubai, the Middle East and even the world.
Dubai Marina was created for you to be able to come alive. It is a life less ordinary. There are a multitude of experiences at Dubai Marina. The promenade with its cosmopolitan restaurants and boardwalk creates a dynamic area linking the towers, gardens and waterfront to create a truly captivating environment. From fishing, jogging, yachting, energetic water sports, fine dining to socializing with your neighbor, the atmosphere is warm, invigorating and always inviting. With 700 berths you can turn your dreams into reality. With a full range of services, ranging from dock masters, loading assistance to cleaning and repairs, you will always be ready to explore the Arabian Gulf, at your leisure. Dubai Marina is the ideal home for you and your boat.
In the years since the master planning process began, the marina has been excavated and opened to the sea. Phases of the development are complete, residents have moved in and restaurants, cafes, hotels, retail and leisure facilities are open for business. Since 2005, yachts and power boats are berthed in the marina. In many respects, Dubai Marina has set a new standard for development in Dubai. Having a great privilege opportunity, Al Shafar Development will proudly start developing a 5-star hotel in such a prime location in Dubai Marina.
Location
:
Dubai Marina
Plot No.
:
3C
Designer
:
Best Italian Interior Design
Contractor
:
Al Shafar Transport and Contracting Co.
Main Usage
:
5-Star Hotel
Floors (Over Ground)
:
24 floors
Facilities
:
Own marina docks for yachts and with a provision of a helipad
:
8-storey exclusive for restaurant complex (in front of hotel on the island)
Click Here to Download Floor Plan