Ongoing Projects
Future Projects
News & Events
Home STARGATE 1
STARGATE 1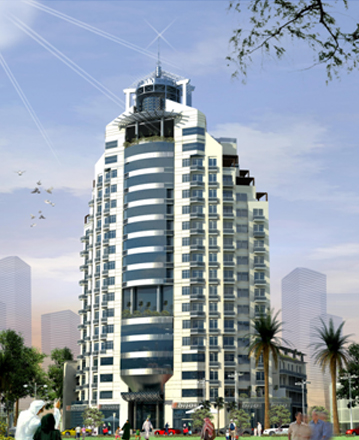 Downtown Jebel Ali is a 200 hectare urban centre and consists of four zones, covering an 11 kilometer stretch on Sheikh Zayed Road. Downtown Jebel Ali was launched on 15 November 2006 and will occupy an 11 kilometre stretch on Sheikh Zayed Road between the Jebel Ali Free Zone, Dubai Waterfront and Techno Park. As part of Dubai's expansion, the city's boundaries push over outwards. Jebel Ali, which was once kilometers away from the center, will soon be an integral part of Dubai, especially with the opening of Dubai World Central Airport, which is due to be the world's largest air terminal. With the growth of this new "city within a city" comes a unique opportunity to create a wholly distinctive community; a place with a style and atmosphere all of its own; a place which people will be proud to call their home. Downtown Jebel Ali will typify this new way of thinking, building and living.
In a city where huge and spectacular developments are commonplace, Downtown Jebel Ali stands out. It will be a living, breathing community where public spaces matter as much as the building themselves – urban development on a human scale, in one of the world's fastest growing cities. This is where the difference lies. Downtown Jebel Ali will at once be a self-sustaining community and also integrated seamlessly with the rest of Dubai through a rich transport system, unrivalled in the region – a truly integrated community. It is a development made even more impressive by the constraints of its physical area – eleven kilometers long by three hundred fifty meters wide and covering two hundred hectares. The masterplan is work of art in itself. Every aspect of it is defined by the needs of the people who will live and work there. It will be an urban center where people will feel that they truly belong. Whether they live there, work there, run a business there or go there to socialize, they will experience one common theme: a consistent blend of safe, vibrant urban environments
The development consists of four quarters – East Quarter, East Central, West Central and West Quarter and will comprise of 326 buildings, 237 of which will be residential. The clever design ensures ample space in-between buildings, with pedestrianised, congestion-free areas. Each quarter is divided into three individual districts creating a blend of business, residential, shopping, dining and entertainment facilities - the Urban Centre, the Trellis District and the Medina District. Downtown Jebel Ali will offer a rich, convenient and intelligent transport system through four new freeway intersections and four Dubai Metro stations. Additionally, there is a state of the art internal people mover system that will provide an environmentally-friendly, practical and comfortable way of moving throughout Downtown Jebel Ali. Construction of Downtown Jebel Ali is underway and the first four commercial buildings will be completed by mid-2007 while completion of the infrastructure works for all four zones is scheduled for 2009.
Location
:
Zone 2, Downtown Jebel Ali
Plot No.
:
009
Designer
:
Green Design
Contractor
:
Al Shafar Transport and Contracting Co.
Main Usage
:
Residential
Type of Construction
:
24 floors
Architectural Style
:
Marvel of contemporary
Structural Materials
:
Metal Cladding & Galvan Steel & Glass
Height (Structure)
:
80.3 meters
No. of Lifts
:
5 lifts
Car Parking
:
199 parking
Floors (Over Ground)
:
18 floors
Total No. of Flats
Two Bedroom Hall
:
33
One Bedroom Hall Flats
:
112
Studios
:
10
Pent House
:
2
Shops
:
10
Flat Areas
Two Bedroom Hall
:
1,084 sft. – 2,680 sft.
One Bedroom Hall Flats
:
813 sft. – 1,219 sft.
Studios
:
486 sft. – 757 sft.
Pent House
:
2,828 sft.
Facilities Available
:
Interior Designed entrance lobby
:
Large size outdoor swimming pool
:
Café/Juice bar overlooking the outdoor swimming pool with access to pool deck
:
Elegant multipurpose hall for conference, private functions and banqueting.
:
Recreation room
:
State of the art health club with sauna, steam and latest fitness equipment
:
Security surveillance cameras
:
Reception desk with 24 hours security attaendance
Shop Areas
Ground
Mezzanine
Shop 1
:
1,262 sft.
----
Shop 2
:
1,696 sft.
1,027 sft.
Shop 3
:
1,740 sft.
1,046 sft.
Shop 4
:
1,829 sft.
674 sft.
Shop 5
:
1,309 sft
874 sft.
Shop 6
:
1,237 sft.
780 sft.
Shop 7
:
1,244 sft.
715 sft.
Shop 8
:
754 sft.
537 sft.
Shop 9
:
861 sft.
----
Shop 10
:
861 sft.
----